NHS Highland uses YouTube in bid to new recruit staff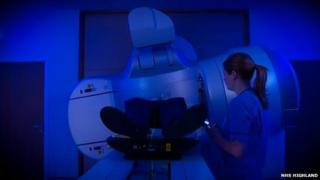 A Scottish health board has uploaded a short film to video sharing website YouTube in a bid to recruit new staff.
The video promoting vacancies in NHS Highland's cancer treatment services is the first in a series the board plans to produce to attract new employees.
In the six-minute film, workers seek to dismiss misconceptions about the Highlands.
Last month, NHS Highland was unsuccessful in a second attempt to fill seven GP vacancies.
In the YouTube film, several members of staff talk about what the health board and the Highlands have to offer.
They say Inverness's Raigmore Hospital, which has a vacancy for a consultant oncologist, has cutting edge technology to match larger city hospitals.
Raigmore has also led the way in the use of image guided radiotherapy, staff point out during the film.
The employees have also sought to dispel mistaken ideas about the region.
Steve Colligan, head of radiotherapy physics, says: "I think people do believe the Highlands is a bit backwards and not up-to-date and I think it's important to reassure everyone that we have running water and electricity."
Dr Carol MacGregor, a Macmillan consultant in clinical oncology, adds that the area offers a wide range of activities that do not involve "Gortex and wellies".
The Scottish government has supported the use of video to help attract potential recruits to NHS Highland.
Health Secretary Alex Neil said: "I am acutely conscious of the challenges we all face in providing high quality, sustainable healthcare - particularly for those who live in remote and rural communities."
He added: "Initiatives such as this film produced by NHS Highland will help to promote the benefits of living and working in Highland."
The closing date for applications to the consultant oncologist post is next month.
NHS Highland has been facing challenges in recruiting staff to some posts.
A renewed effort to fill seven GP vacancies in a remote part of the Highlands was unsuccessful, it emerged last month.
NHS Highland re-advertised the posts in the sparsely populated area of West Lochaber after a first round of adverts failed to attract enough applicants.
The health board had hoped a new plan for a cluster of local practices would have allayed potential applicants' concerns about having to work alone.
But not enough people have come forward to staff that model of cover.
The GPs are needed to cover places such as Arisaig, Acharacle and Strontian.