Snared and beaten badger found in Inverness, says SSPCA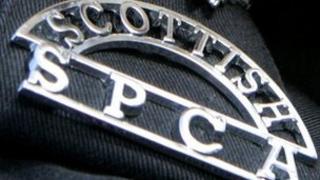 A badger was snared and beaten to death and then left on a footpath in Inverness, the Scottish SPCA has said.
The animal welfare charity said the badger was found by two women on a footpath in the Inshes area of the city on 30 September.
A post mortem examination has shown that it was snared using baler twine and killed with a heavy blow to the head with a blunt instrument.
The SSPCA said the animal was killed illegally.
Gill MacGregor, a senior inspector at the charity, has appealed for help from the public in finding out who set the snare.
She said: "This is a very unusual incident as it appears that the badger was deliberately killed and then placed on what is a very busy footpath, possibly with the intention of it being discovered.
"We have been advised there are no known badger setts in the area so this rules out the possibility that the badger crawled there or was killed at the location where it was found."
Ms MacGregor added: "The injuries the badger sustained were horrendous and this was an incredibly cruel act."