Alexander Stewart, Lee Mullen and Lee Dyce sentenced over Inverness siege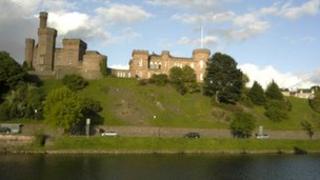 Two men have been jailed and another given a community sentence following a nine-hour siege at an Inverness flat.
Alexander Stewart, 28, and Lee Mullen, 39, admitted threatening police, brandishing knives and other weapons at them while claiming to be in possession of firearms and having four hostages.
Stewart was jailed for 27 months and Mullen ordered to carry out 300 hours of community work.
Lee Dyce was jailed for 71 weeks for his part in the siege in Raigmore.
He admitted behaving in a threatening and abusive manner, gesticulating towards police, brandishing weapons at them and refusing to leave the flat.
He was on three bail orders at the time.
He is currently serving nine months in prison and his sentence takes into account his time on remand since 10 June.
Stewart, a father-of three from Inverness, also admitted racially abusing a police officer and a breach of bail.
Inverness Sheriff Court heard how armed police were among 16 officers who sealed off the estate on 9 June.
'This is war'
Fiscal depute Kelly Mitchell told the court that police had been called to the flat at about 22:00 after neighbours complained about music being played too loudly.
Stewart refused the police entry to the flat, shouted racial abuse to a sergeant and claimed he had a knife.
Ms Mitchell said Stewart told police: "This is war. You will be here all day and night. I have four hostages. If you come in, I will kill them."
Stewart then sent his mother a text saying that his home was surrounded by armed police and he would be taken out in a body bag.
Ms Mitchell said: "Dyce was then seen by police to come to the window holding a knife and another implement.
"Mullen also came to the window brandishing a knife and a baton which he held like shooting a gun."
She added: "About 2.40am, a man was heard to shout 'Don't kill me Alexander', before Mullen jumped out of the window and was arrested.
"Stewart and Dyce eventually came out of the property at 6.40am. Sixteen police officers and a dog unit were involved in the incident."
'Appalling records'
Stewart's defence lawyer Rory Gowans said what had started as a noise complaint escalated when the police arrived.
He said: "Rather than open the door, he turned up the music and barricaded them in."
"They had all been drinking for most of the day."
Dyce's solicitor Marc Dickson said the incident was not planned and had taken "a life of its own".
Mullen's agent, Neil Wilson, said his client was "foolish" to become involved but had eventually come to his senses and surrendered.
Sheriff Margaret Neilson told Stewart and Dyce they had "appalling records."
She added: "This was a serious incident which caused considerable fear and alarm to the community, lasted a long time and involved considerable police resources."