Breeding hope for wildcat kittens at Highland Wildlife Park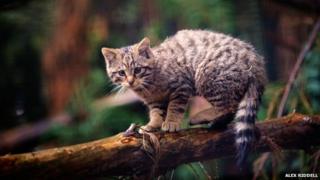 A zoo's two new kittens could have a future role in a project to breed Scottish wildcats in captivity for possible release into the wild.
Ness and Einich were born at the Royal Zoological Society of Scotland's (RZSS) Highland Wildlife Park at Kincraig, near Aviemore.
RZSS and the Aspinall Foundation are leading the plans for a conservation breeding programme.
The wildlife park will be among the project's main breeding sites.
RZSS said Ness and Einich may play a part in the programme, which is part of the wider Scottish Wildcat Conservation Action Plan unveiled last month and involves Scottish Natural Heritage.
The cats are endangered in the wild.
Breeding with feral cats, disease, habitat loss and fatal collisions with road traffic have caused a dramatic decline in their numbers.
Only a few hundred pure-bred Scottish wildcats are thought to survive.
Douglas Richardson, head of living collections at the Highland Wildlife Park, said the new kittens were the latest breeding success for the park.
He said: "But with the wildcat action plan, the contribution that these little chaps may make in the future to their species' survival will hopefully be more impactful.
"The plan is for a much more aggressively managed breeding programme, running alongside a wide range of other wildcat conservation initiatives that will eventually turn the tide for the species in Scotland."