Thousands of rabbits on Isle of Canna to be culled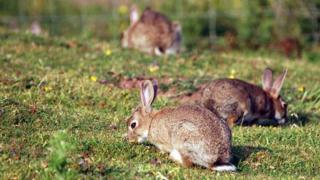 Thousands of rabbits, including animals that caused a landslide that blocked a road, are to be culled on a small Hebridean island.
National Trust for Scotland (NTS) estimates there are more than 16,000 rabbits on Canna.
The burrowing animals have been blamed for causing a landslide that affected a main route on the isle and for damaging archaeological sites.
NTS is to put out to tender a contract to control rabbit numbers.
Work to exterminate rats on Canna was completed in 2008.
Rats were blamed for eating the eggs and chicks of ground-nesting seabirds, seriously affecting their population.
Pest controllers from New Zealand were brought in to deal with thousands of rats, using poison and traps.
The rodents first arrived on the island on ships about 100 years ago.
They had also posed a threat to the island's rare wood mice, 130 of which were transferred to Edinburgh Zoo before the cull.
However, rabbits will not be completely wiped out because they provide food to eagles that nest on Canna.
NTS said: "There are concerns about the impact that the population is having on the island, given the recent landslide.
"Following advice from a specialist wildlife advisor, we are about to go out to tender for a contractor to undertake control work on the island.
"The intention is that much of this work could be carried out before the end of the year.
"The overall plan is to get the population down to manageable and sustainable levels."