Land's End to John O'Groats swimmer Sean Conway nears final destination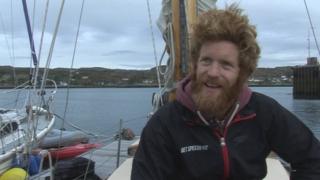 A man who is attempting to swim from Land's End to John O'Groats is nearing his final destination.
Sean Conway, 32, from Cheltenham, left west Cornwall on 30 June bound for the far north of the Scottish mainland.
He is attempting to become the first person to swim the route up Britain's west coast.
On Monday, he was close to the tiny island of Handa off Scotland's north west Sutherland coast after swimming about 10 miles a day.
He has been sleeping on a yacht, or on shore.
Thousands of people attempt to walk, cycle or run roads between Land's End and John O'Groats each year.
Mr Conway hopes to complete his swim next month.