Chinook airlifts broken-down Royal Navy Sea King helicopter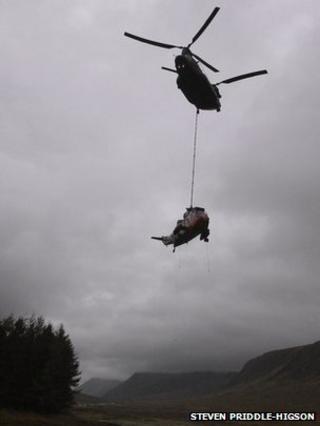 A Royal Navy helicopter had to make an emergency landing in Glencoe because of an engine problem, it has emerged.
The Sea King from HMS Gannet at Prestwick, in Ayrshire, landed near the Kings House Hotel on 13 October.
The machine was kept under armed guard until it was airlifted from the scene on Friday by a Chinook helicopter.
It was understood the Sea King's four crew were on a training exercise when the pilots were alerted to a fault with the helicopter's gear box.
It was lifted away from an area near the hotel to the village of Glencoe on Friday.
It was then secured to a trailer and transported by lorry to HMS Gannet.
The helicopter is one of three at HMS Gannet.
Royal Navy crews and helicopters based at Prestwick are regularly called out to make searches and rescues in remote parts of Scotland.