Forgotten Gaelic place names recalled in new SNH guide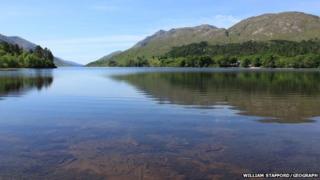 Forgotten Gaelic place names in Lochaber that recall tales of murder and an epic boar hunt have been recorded in a new guide.
Scottish Natural Heritage (SNH) said many of the names no longer appear on modern maps.
Some of stories behind them are also appearing in print for the first time, the public body added.
The booklet, Gaelic in the Landscape: The Rough Bounds of Lochaber, was launched at the Royal National Mod.
The celebration of Gaelic language and culture is taking place in Paisley.
SNH and Ainmean-Aite na h-Alba co-ordinated the project to create the guide.
Among the place names is Sgurr Tuirce, near Loch Shiel, which means boar peak.
In the new guide, the name is linked to an Ossianic story about an ancient hunt across Scotland for a huge tusked boar.
Near Loch Morar, Na Cailleachan Buidhe - meaning the yellow women - is said to recall the story of two women who were murdered in the 1500s before their bodies were buried in peat.