New survey on trouble-hit Stromeferry bypass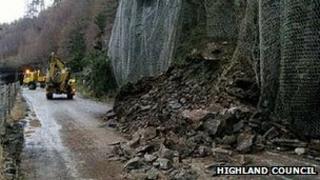 Highland Council is running a survey of businesses and organisations affected by closures of the A890 Stromeferry bypass in Wester Ross.
The eight mile (12km) stretch of road has been repeatedly shut by landslides.
The council is examining several possible solutions. These include a tunnel, a bridge or for traffic to use a nearby railway when not in use.
The survey seeks information on the reasons why companies and organisations rely on the bypass.
Questions include how many employees use it to get to work and how important it is to firms for delivering goods.
The bypass on the A890 in Wester Ross has been closed by large landslides in the last two years.
The A890 helps to connect Lochcarron to Plockton, with its high school, and also to Kyle.
The road links up from the A896, the main road through Lochcarron, and runs down the side of Loch Carron.
Rubber mats
When the bypass is closed, drivers face having to take a 140-mile (225km) diversion, instead of the usual 18 miles (29km) from Lochcarron to Plockton.
It was shut for three days in December last year when almost 20 tonnes of debris came down.
In December 2011, the bypass was shut by a landslip which involved 100 tonnes of rock.
This left it blocked for four months and sparked a Highland Council investigation into how to prevent further disruption.
A small car ferry, a pleasure cruiser and train services were all utilised in an effort to ease the travel headache for locals.
Rubber mats were also later laid on a railway running alongside the bypass so road traffic could use the track.
Highland Council is not expected to make a decision on a preferred permanent solution until next summer.