'Positive inspection' for Fort William's Belford Hospital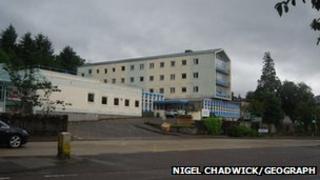 Wards and equipment at Belford Hospital in Fort William were found to be clean during an unannounced visit by the Healthcare Environment Inspectorate.
HEI chief inspector Susan Brimelow said it had been a "positive inspection".
NHS Highland has been asked to make improvements in line with one requirement and two recommendations.
Belford's accident and emergency is one of the busiest mountain trauma units in Europe, frequently treating walkers and climbers who have been hurt in falls.
Two HEI inspectors visited the hospital on 22 August.
Ms Brimelow said: "This was a positive inspection which resulted in only one requirement and two recommendations.
"We found that the wards and patient equipment we inspected were clean, however we found some policies around infection control were out of date and we expect NHS Highland to address this."