Second fireball meteor spotted over northern Scotland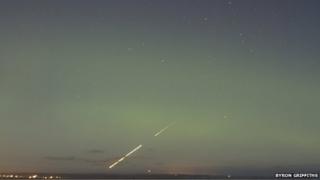 A fireball meteor has been seen over the Highlands a day after one was photographed from north west Scotland.
The second meteor could be seen from Inverness, Ullapool and also Tarbert in Argyll at about 19:00 on Tuesday.
On Monday, a display of the Northern Lights over the Highlands and Islands was lit up by a fireball meteor.
Byron Griffiths, who lives on the Isle of Lewis, photographed the scene from the eastern side of the island in the Western Isles.
A BBC News Scotland website reader who saw Tuesday's meteor from Ullapool described it as "a slow moving ball" and as bright as burning magnesium.
Do you have photographs or footage of Tuesday night's meteor? You can send them to the BBC Scotland news website at newsonlinescotland@bbc.co.uk
Please ensure when filming or photographing an incident that you make your safety and the safety of others a priority.
If you submit an image, you do so in accordance with the BBC's Terms and Conditions.