Orphaned red squirrel Dizzee rescued near Inverness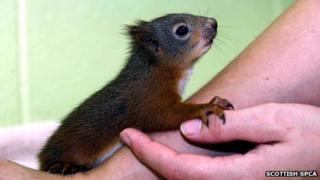 An orphaned red squirrel is being care for after being rescued in woodland near Inverness, a charity has said.
A member of the public spotted the four to five-week-old lying on the forest floor while walking in Daviot Woods.
She took her to the Scottish SPCA's Highlands and Islands animal rescue and rehoming centre, where she was syringe-fed by staff - who named her Dizzee.
The squirrel has since been transferred to the charity's centre at Fishcross, near Alloa.
'Natural fear'
Centre assistant manager Colin Liddell said: "Dizzee was only 90g when she arrived in our care but she's come on leaps and bounds over the past three weeks and has now almost doubled in size and is weighing in at a very healthy 165g.
"Wildlife assistant Sheelagh McAllister has been providing Dizzee with round-the-clock care which includes taking her home at night to continue her hand-feeding.
"Dizzee's now starting to eat solid foods, including shelled nuts, and she's ready to be moved into an outdoor enclosure.
"This is when we take a completely hands-off approach to allow Dizzee to establish her natural fear of humans.
"She'll have lots of space to run and jump and develop her fitness in preparation for release back into the wild in around two weeks' time."