Grant to aid community takeover of Scalpay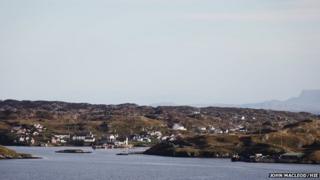 The 300 residents of Scalpay in the Western Isles have taken another step towards taking ownership of the small island.
The inhabitants are being given £60,330 from the Scottish Land Fund to help them takeover Scalpay Estate.
The current laird, English businessman Fred Taylor, has offered the island's residents the land for free.
However, funding is needed to cover conveyancing costs and to employ a development officer for two years.
Once the community takeover is complete, Scalpay Estate will join with the neighbouring North Harris Trust to form one single larger community-owned organisation.
Residents on Scalpay, off Harris, voted 197 to eight in favour of taking over the running of the island in a ballot held late last year.
The island's population has fallen by half since the 1970s and 80s and its primary school closed in June after the roll fell to four.
Development agency Highlands and Islands Enterprise is supporting islanders with their venture.