Lotto balls stunt on Loch Ness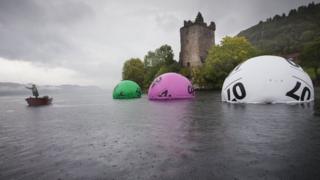 Three giant numbered balls have been floated on Loch Ness to promote changes to the National Lottery.
Positioned below the ruins of Urquhart Castle, the balls - of 5m, 4.5m and 4m in height - were laid out to represent the humps of the Loch Ness Monster.
The cost of a National Lottery Lotto ticket has doubled to £2.
The rise, the first since the lottery started in 1994, is part of a package of changes including bigger prizes, operator Camelot has said.
Prizes for matching three numbers will rise from £10 to £25. Average jackpots are predicted to rise to around £5m on Saturdays and £2.5m on Wednesdays.
Camelot said this would mean more money for charities. It has raised £30bn for "good causes" since 1994.