St Kildan Norman Gillies dies 83 years after leaving island home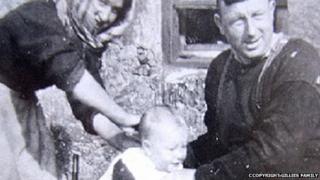 One of the last native inhabitants of St Kilda has died after suffering a heart attack.
Norman John Gillies was five years old when residents of the archipelago petitioned the UK government to bring them to the mainland in 1930.
In a BBC interview he spoke of older inhabitants sitting on the boat, "waving to the island until it went out of sight".
But he said leaving had been a "great opportunity" for younger residents.
Mr Gillies died in hospital in Cambridge, aged 88.
He lived in a house called "St Kilda" in a village near Ipswich in Suffolk.
He moved there after meeting the woman who was to be his wife for more than 63 years at a local church, while he was serving in the Royal Navy.
But he always loved to talk about his heritage and about the islands of St Kilda, which lie 40 miles west of the Outer Hebrides.
"One of the most precious memories I've got is of my mother calling out 'Tormod Iain', which is Norman John (in Gaelic)," he said in the BBC interview.
"And I can see her waving, with her shawl on her head, and asking me to come home for my dinner."
'Sad little memory'
It was the death of his mother, at a hospital in Glasgow, which helped to convince the residents of St Kilda to leave.
"My mother was pregnant at the time and she also had appendicitis. They first of all had to get a message out by a trawler to say that there was somebody ill on St Kilda.
"So they got the lighthouse ship to come in to the bay, and my sad little memory is seeing my mother being rowed in the boat and her waving to me. And me waving back.
"That was the last time I saw my mother."
Just a few months later, on August 29th 1930, the 36 inhabitants of Hirte - the only inhabited island - boarded the Harebell, the ship sent to take them to Lochaline in Argyll.
"I can still recall the crowds on the pier. You've never seen so many people, " said Mr Gillies.
"They were probably expecting to see some strange inhabitants arriving. "
That was also, he remembered, the first time he had ever seen a motor car. And a tree.
He was always adamant that life for St Kildans had been hard work.
"They did their little crofts. And also they did their weaving. St Kilda tweed was very well sought after.
"But it was only as they sold the things (they had made) they were able to buy in stores, at the end of August, to last them for the next nine months," he said.
'Edge of world'
And he insisted it was only because islanders co-operated with each other that they were able to survive at all.
"When they were getting a catch of fulmars or guillemots or the gannets, when they had a big catch, it was always distributed to every household.
"To the widow, to the person who was ill and couldn't go and do any fowling.
"They always looked after each other."
Mr Gillies returned to the islands of St Kilda several times in recent years and took part in a National Trust for Scotland work party in 1976, helping to renovate the stone houses in which his family and neighbours had lived.
And he understood and welcomed the fact that St Kilda continues to fascinate so many people.
"Seeing the films, and reading stories in the different books that have been written, has really caught their imagination," said Mr Gillies.
"They'd really like to set foot on St Kilda and say 'I've been there. I've seen the island they call the island at the edge of the world'.
"And it is a delightful little island, which everyone ought to see. And which I'm sure they will enjoy."