Exercise Joint Warrior to be held in Scotland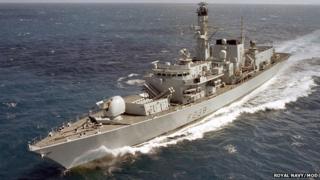 Dozens of warships, military aircraft and thousands of soldiers, sailors and aircrew are to take part in a major exercise in Scotland.
Joint Warrior is one of Europe's largest military training events and is held twice a year.
This year's first round of training took place in April and involved Norwegian stealth missile boats.
The second round will be held from 7-17 October and will see activities in the Clyde, southern Scotland and Highlands.
The maritime contingent, many of them operating off the north coast of Scotland, will involve ships from France, Denmark and Norway with personnel on the Danish vessel HDMS Absalon leading the operations.
Royal Navy ships taking part include HMS Monmouth, HMS Portland, HMS Somerset, HMS Sutherland, HMS Cattistock, HMS Brocklesby, HMS Bangor and Type 23 frigate HMS Northumberland.
RAF Tornado GR4 aircraft and maritime patrol aircraft from the US, Canada, France and Germany will fly out of Lossiemouth in Moray.
Typhoon jets will operate from RAF Leuchars in Fife.