Unwanted Highland collie pup becomes award-winning rescue dog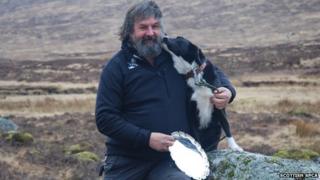 An unwanted collie pup taken in by the Scottish SPCA has gone on to become an award-winning search and rescue dog.
Gem was given up by her owner in 2011 and spent several weeks at the animal welfare charity's rehoming centre in Inverness.
She was later adopted by Pete and Alison Crichton, from Lochluichart, Ross-shire, and they enrolled her for search and rescue training.
This year she won best novice dog in a Sarda Scotland competition.
The Crichtons spotted Gem's talent for finding things when playing games of hide and seek with her.
'Great promise'
Mr Chrichton said: "I've had search dogs for 25 years now and Gem's my fourth dog, but the first one to come from a rescue centre.
"She's been on several searches since she qualified and she's already showing great promise."
He added: "She won the Madras Trophy for best novice dog on the course at Sarda's annual dog trials at Glen Coe this year."
Three-year-old Gem joins 21 other dogs on Sarda Scotland's mountain rescue team.
Elaine Floyd, manager of the Scottish SPCA's Inverness Centre, said staff and volunteers were delighted the Crichtons' spotted Gem's potential.
She added: "Collies are highly intelligent dogs who have very active minds and bodies and Pete and his family have recognised this and given Gem a great career as well as a very loving home life."