Reward offered in Alistair Wilson murder inquiry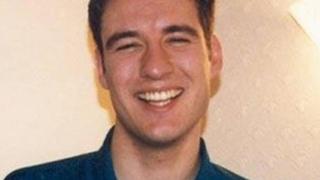 A charity has put up a reward of up to £5,000 for information that leads to an arrest and conviction for the murder of Alistair Wilson.
Crimestoppers' offer comes a day after police released a new image of the gun used to shoot the banker on the door step of his home on 28 November 2004.
The killing in Nairn nine years ago remains unsolved.
Crimestoppers Scotland chairman, Jim Ferguson, hopes people will come forward with new information.
He said: "We would ask that anyone who thinks they may have information relating to this, no matter how small, should come forward and finally help Alistair's family obtain the answers they seek.
"All information passed to Crimestoppers is kept anonymous, a guarantee that has never been broken, so no-one need be in fear of their identity being revealed."
Information can be passed on by contacting the charity on 0800 555 111 or filling in a form at www.crimestoppers-uk.org.
On Monday, police re-examining the murder released a new image of the gun used to kill him.
Police Scotland's new Major Investigation Team North is investigating the case. MIT North involves officers based in Inverness, Aberdeen and Dundee.