New life for ruined Torroy Croft in east Sutherland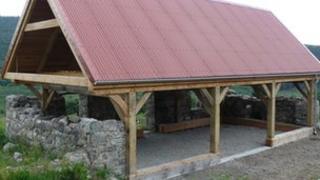 A croft building has been transformed from a ruin into an information point for visitors to a woodland in east Sutherland.
Torroy Croft will be used by children on school visits to Ledmore and Migdale woods and as a shelter by volunteers working in the area.
The site and surrounding area is managed by Woodland Trust Scotland.
The new shelter will be officially opened at a community event on Saturday.
Heritage Lottery Fund Scotland supported the croft project.
Ledmore and Migdale woods stretch to over 1,700 acres (700ha).
The area includes the largest remnant of ancient oak wood in Sutherland and one of the most northerly Scots pine woods in the UK.