Trap pine martens to protect capercaillie, say gamekeepers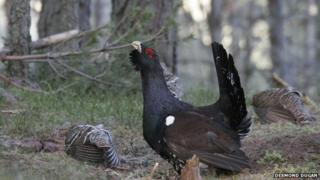 Pine martens should be trapped and relocated away from capercaillie breeding areas, the Scottish Gamekeeper's Association has said.
The organisation said removing the predator would help to halt a decline in numbers of the rare bird.
The SGA's suggestion of trialling the trapping and transfer of pine martens is not supported by RSPB Scotland or Scottish Natural Heritage.
The mammals are legally protected and the subject of conservation work.
Foxes, crows and birds of prey also hunt capercaillie.
Bad weather, loss of habitat and collisions with deer fences have also been blamed for deaths of the birds.
The SGA said not enough was being done to control pine martens and capercaillie were "doomed" to extinction if measures were not taken.
Live traps
It has suggested a managed scientific trial using live traps to capture and transfer pine marten during the breeding season in the Cairngorms.
In a statement, the SGA said: "Such a localised trial may establish the benefits or otherwise to capercaillie survival in the core area, if pine marten were removed. So far, nothing has been done."
RSPB Scotland said both species were deserving of conservation efforts. It supports improving woodland habitats.
SNH said: "We published two reports in 2011 which looked at this subject.
"One did not find a direct link between pine marten numbers and capercaillie breeding success. The other found a link when the effects of weather were also taken into account. So the ecological situation is complex."
It added: "We are keen to take forward the research looking at the role of predation alongside the effects of land use and climate."