Row over planned Caithness wind farm voucher offer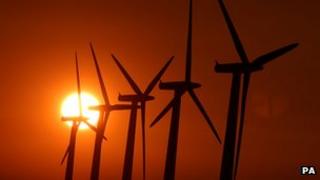 Opponents to planned turbines have criticised a voucher scheme being offered to residents in parts of Caithness.
Eurowind said the scheme could help put £80,000-a-year into the local economy if its plans to install 10 turbines at Lyth got the go ahead.
The firm is working with the local chamber of commerce on the vouchers.
Caithness Wind Information Forum said subsidising the farm would cost more than the amount to be reinvested.
If built, Lyth Wind Farm would generate enough electricity for about 14,641 properties.
Eurowind said the vouchers could be used to pay for local goods and services.
Managing director Ian Lindsay said: "I believe the ongoing health of a community depends on its businesses and the jobs they provide, as much as its residents.
"This unique way of sharing a financial dividend between a community and its commerce benefits everyone directly.
"We are intending to adopt the voucher scheme as part of a package of community benefits from the wind farm we are developing, including support for college jobs-training."
Consumers' bills
A survey by Caithness Chamber of Commerce of local businesses suggested that the majority believed vouchers would increase their trade.
The chamber's chief executive Trudy Morris said: "We welcome Eurowind's approach to a potential community benefit model which will benefit local businesses.
"Thriving communities need sustainable businesses, they are not mutually exclusive."
But Stewart Young, of the Caithness Wind Information Forum, described the wind farm project as a "means of getting money out of the community".
He said: "The subsidy element of this wind farm over a year is over £2m. That comes out of consumers' bills and to put £80,000 back in is laughable."