Fly only found in Highland dunes 'need more research'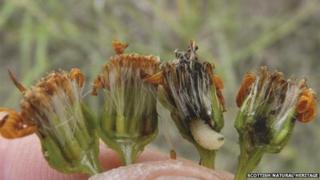 A fly that has only ever been recorded at a short strip of sand on the shores of a Highland firth requires further research, according to a new report.
Fonseca's seed fly, Botanophila fonsecai, is thought to be limited to an area about 100m long and just a few metres wide at the Dornoch Firth.
It is a UK Biodiversity Action Plan-listed species.
The report suggests further research is needed because so few flies were found in the latest survey of them.
The study, which was commissioned by Scottish Natural Heritage, said fewer were recorded than previous surveys made in the 1970s and 80s.
This could indicate a decline in numbers, or that the latest survey missed the insects' peak activity, the report said.
Larvae were found at the site, but researchers said they may have been those of a similar-looking species.
Tiny creature
The report recommends trapping flies and also looking for Fonseca's seed fly at other places with suitable habitat.
Potential sites have been indentified near Brora, Keiss and Durness in the Highlands and dunes between Lossiemouth and Aberdeen.
The Highlands are home to a number of rare invertebrates.
A snail the size of a grain of rice has been found at protected woodland on the Black Isle.
Pupilla pratensis has only been recorded in one other site in Britain, also on the Black Isle, and is usually found in Scandinavia and Poland.
It measures 4mm long by about 1.5mm wide.
The discovery at Braelangwell Wood Site of Special Scientific Interest was made last summer by specialist Ian Killeen and made public earlier this month.
In 2009, a tiny creature no bigger than 1mm in length found in the Scottish hills was confirmed as the first recorded member of its species found in the UK.
The springtail Bourletiella viridescens was photographed in the Cairngorms by Tim Ransom.
Previously, it was reported in literature as having been found at two sites in north England, but there are no specimens to back this.
Experts identified and confirmed the sighting.
It was found among gravel and weathered heather.