Study to be done on impact of raising Corran Ferry fares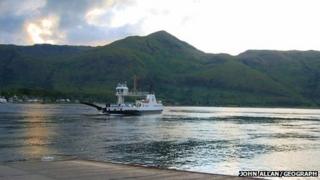 The impact on communities of increasing fares on a council-run ferry service are to be investigated in a socio-economic study.
Highland Council will raise prices on Lochaber's Corran Ferry in November to help cover higher fuel costs.
People who depend on the service are angry that the cost of a discounted booklet of 30 tickets will go up by £9.
There will also be fewer tickets in a book of concessionary travel passes for pensioners.
The vessel, MV Corran, operates between Nether Lochaber and Ardgour on Loch Linnhe.
The ferry allows access to and from the communities of Ardgour, Morvern and Ardnamurchan via a narrow stretch of the loch.
It is also used by people and businesses on Mull, who first travel to the mainland on the Fishnish-Lochaline ferry.
The Corran Ferry and Fishnish-Lochaline services also offer tourists an alternative to the Oban to Mull ferry.
'Not competent'
Highland councillors agreed to the price increases at a meeting of the transport, environmental and community services committee on Thursday.
They also agreed that a socio-economic study of the impact of the rises on communities should be commissioned.
Council leader Drew Hendry and committee chairman Graham Phillips met with Lochaber members to agree a way forward after Lochaber councillors Andrew Baxter, Brian Murphy and Bill Clark highlighted the concerns of the local community.
Mr Baxter had asked for a deferral of a fare increase in the current financial year, but was advised this was "not competent" as the council had already agreed to introduce revised fares to raise an additional income as part of the budget-setting process.