John Gordon and Sons sawmill in Nairn badly damaged by blaze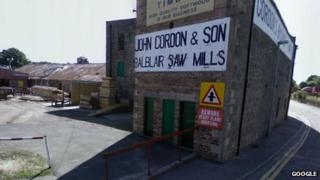 A sawmill in Nairn has been badly damaged by fire.
The blaze broke out at John Gordon and Sons sawmill on Balblair Road at 18:45 on Thursday. No-one was injured.
The Scottish Fire and Rescue Service said 30% of the building was damaged by the fire, as well as various machinery, and half of it was affected by smoke.
Six fire appliances were at the scene at the height of the blaze and firefighters had it under control by about 21:00.
The sawmill is one of Nairn's biggest private employers and has been operating for more than 100 years.
'Business as usual'
In a statement, the company said the damage was limited to its round fencing process.
It added: "The vast majority of the company's sawmilling operations were unaffected and are open for business as usual.
"We would like to take this opportunity to thank all members of the emergency services, especially the local firefighters for their quick response in bringing the fire under control."
Nairn's provost Laurie Fraser told BBC Radio Scotland that the fire may slow down some production at the site.
But he added: "I know they will recover from it."
Do you have photographs or footage of Thursday evening's fire? You can send them to the BBC Scotland news website at newsonlinescotland@bbc.co.uk
Please ensure when filming or photographing an incident that you make your safety and the safety of others a priority.
If you submit an image, you do so in accordance with the BBC's Terms and Conditions.