Man rescued after car goes into River Ness in Inverness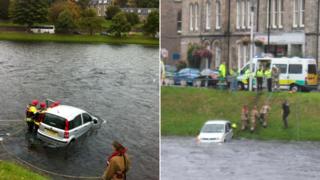 A man has been rescued from a car after it went into the River Ness in Inverness.
Police, fire and ambulance crews were alerted to the incident at about 10:05.
The small silver Fiat car appears to have come off the road near Ardross Terrace, gone through metal railings and down the riverbank.
It had been thought two people were involved, but firefighters said one person was freed from the vehicle.
The man has been taken to hospital but is not thought to have been badly injured.
The incident happened near Inverness Cathedral.
Crowds of people, including holidaymakers, gathered on both banks of the river to watch the rescue operation.
It was followed by work to pull the car from the water.