Businesses rate A9 and A96 trunk roads as 'very poor'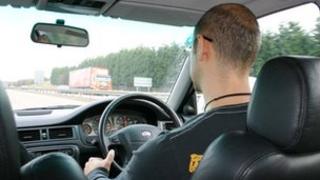 Businesspeople believe the A9 and A96 are unsafe and that journeys on them take too long, according to new research.
The Scottish Council for Development and Industry (SCDI) carried out a survey of 210 businesses on behalf of Transport Scotland.
The results suggest 70% of respondents rated the A9 as "poor or very poor" for safety.
Between 60% and 77% gave the same rating for the A96.
Both trunk roads are the subject of projects to upgrade them.
The A9 from Inverness to Perth is due to be fully dual carriageway by 2025. The cost of the work is expected to run to £3bn.
The A96 is to be dual carriageway all the way from Inverness to Aberdeen by 2030.
There have been calls from campaigners and a group of Free Church of Scotland ministers for the A9 work to be accelerated.
'Ambitious dualling'
SCDI also gathered comments from businesses on the benefits of improving the routes. Firms said the upgrades would lead to:
Productivity gains from reduced journey times and less stressful journeys.
Safer journeys for visitors and staff, with fewer significant disruptions.
Widening the range of potential suppliers, faster deliveries, possibly lower costs.
More efficient and reliable road haulage, with reduced vehicle repair costs.
Michael Urquhart, SCDI Highlands and Islands chairman, said businesses "clearly regarded the roads to be sub-standard".
He said: "Businesses highlight that the greatest benefits of dualling both the A9 and A96 would be to increase the attractiveness of the north of Scotland for investment, reduce transport costs, improve business confidence, and make journeys safer.
"Improvements to these trunk roads to enable increased economic development have been high priorities for SCDI for many years and this report provides a strong case for the Scottish government to continue to make progress with this work."
'Many benefits'
Transport Minister Keith Brown said the Scottish government was committed to improving the routes.
He said: "Dualling the A9 between Perth and Inverness and the A96 between Inverness and Aberdeen will bring many benefits for businesses who use these vital routes to transport goods or to connect with the commercial centres of Perth, Inverness or Aberdeen and further afield.
"Infrastructure investment by this government, such as these ambitious dualling programmes, is fundamental to delivering sustainable economic growth, supporting jobs and enabling businesses to grow."