MacLeod and Muskett first Britons to climb Eiger route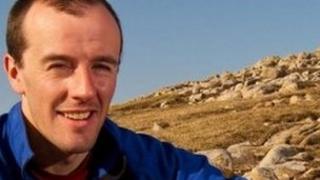 Dave MacLeod and Calum Muskett have become the first British climbers to make a free ascent of a route up the North Face of the Eiger in Switzerland.
The pair took three-and-a-half days to complete the multi-pitch Paciencia.
Scot Mr MacLeod, who lives in Roybridge, Lochaber, and Mr Muskett, of Bethesda, Gwynedd, tackled the rock climb last month.
Swiss climbers Ueli Steck and Stephan Siegrist established the route between 2001 and 2003.
The men went on to make the first free climb of Paciencia, "patience" in Spanish, in 2008.
Austrians David Lama and Peter Ortner repeated that feat in 2011.
In free climbing, ropes and equipment are only there as protection against a fall and cannot be used as an aid.