Skye's Gaelic college Sabhal Mor Ostaig marks 40 years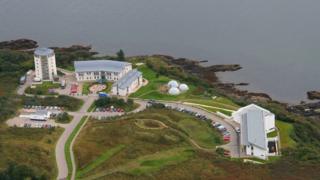 First Minister Alex Salmond has praised a college that was started in an old stone barn 40 years ago for its work promoting the Gaelic language.
Skye's Sabhal Mor Ostaig (SMO) is Scotland's National Centre for Gaelic Language and Culture.
Ahead of a reception in the Scottish Parliament to mark the anniversary, Mr Salmond said SMO had gained an international reputation.
The college is leading plans to build a new campus and more than 90 homes.
Called Kilbeg, the development could cost £40m in total to construct.
SMO is also working with four universities on an online Gaelic dictionary that could take 30 years to complete.
Praising the work of SMO, Mr Salmond said: "What started as no more than a barn and an idea 40 years ago, now stands an established, globally recognised higher education institution charged with protecting, promoting and celebrating Scottish Gaelic."
He added: "It may not be our oldest university, but Sabhal Mor Ostaig has become the custodian of Scotland's oldest language.
"As many Gaels will attest, Gaelic is more than a language. It is an integral part of the identity and heritage of the Highlands and Islands, and thanks to Sabhal Mor Ostaig, Gaelic is as current and relevant today as is was 40, even 400, years ago."