First 10K race on course created at Caithness wind farm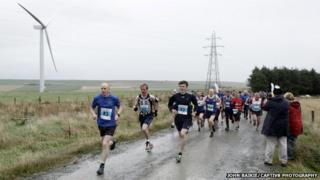 The first race has been held on a 10K running course that takes competitors through a 21-turbine Highland wind farm.
The course uses service tracks around the 21-turbine Baillie Wind Farm, near Thurso, in Caithness.
About 100 athletes took part in Sunday's race that took runners close to some of the scheme's 110m (360ft) turbines.
Kevin Cormack, from Thurso, won the inaugural 10K.
Statkraft, which owns the site, and North Highland Harriers running club organised the race.