Time travels: What takes as long as driving the A9?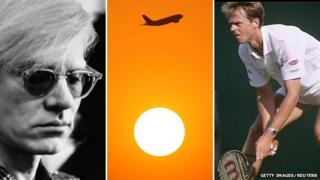 It takes five hours 26 minutes to travel the length of the longest trunk road in Scotland. What other tasks take as long?
The A9 stretches 245 miles from Dunblane in central Scotland to Thurso in Caithness, according to Transport Scotland.
It is Scotland's longest and the UK's fifth longest trunk road, and is the focus of the most expensive transport project in Scottish history.
This £3bn project involves making the A9 dual carriageway all the way between Perth and Inverness - about 113 miles of which 80 miles is single carriageway - by 2025.
Separately, there is also work under way to improve the road at the Berriedale Braes between Inverness and Thurso.
Both schemes aim to reduce the risk of accidents and also reduce journey times, which, although they can vary wildly, were put at five hours and 26 minutes by AA Route planner (time given on 13 September).
But what else takes, or has taken, about the same time as it does to drive all the way from Dunblane to the far north?
Set a tennis record: Stefan Edberg's 1992 US Open semi-final victory over Michael Chang lasted five hours and 26 minutes. It is believed to be the longest match in the tournament's history.
Fly back from Egypt: To return to Glasgow from a break in the Egyptian resort of Sharm el-Sheikh takes five hours 25 minutes, according a blogger on Tripadvisor.
Watch lots of TV: Back in January 2008, the Daily Mail reported that British children were spending an average of five hours and 20 minutes in front of TV or computer screens a day.
Take in almost three films: It would be possible to squeeze in Slumdog Millionaire, running time 120 minutes according to IMDb, the 108-minute long Under the Skin and 88 minutes of Skyfall. All have a link to the A9. Kingussie, a village just off the trunk road, pops up in Slumdog. The A9 is a feature of the novel that inspired Under the Skin and the route gets a mention in the recent Bond movie.
Appreciate pop art: Andy Warhol 1963 experimental film Sleep - black and white footage of a man sleeping - runs to five hours and 21 minutes, which according to the Institute of Contemporary Arts.
Get rested: A good night's sleep can be achieved in five hours, according to a 2010 report in The Telegraph.