Final's winners to take home real Camanchd Cup trophy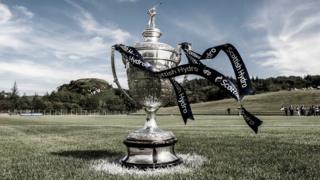 The winners of Saturday's Scottish Hydro Camanachd Cup final will take home the original 117-year-old trophy and not a planned replica.
Shinty's governing body, the Camanachd Association, considered having a replica made to protect the silver prize made in 1856.
However, the plan has been shelved and the original refurbished instead.
Newtonmore and Kyles Athletic will contest this year's final at An Aird Stadium at Fort William.
Torquil MacLeod, chief operating officer of the Camanachd Association, said winning clubs would be responsible for any repairs to the trophy while it was in their care.
He said: "The original trophy is extremely valuable and beautifully decorative. Naturally it is a trophy everyone wants to be in possession of.
"Being the age that it is, it is susceptible to wear and tear and we had to examine the options to ensure it was kept in prime condition.
"After exploring costs and taking into consideration that clubs want the real thing, we have decided not to go ahead with a replica."