Trailer for Scots PoW film starring Firth and Kidman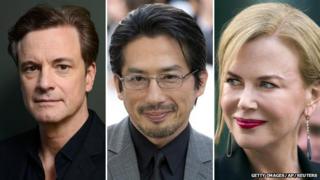 The first trailer for a film based on the memoirs of a Scots soldier who was held in a Japanese labour camp during World War II has been released.
The Railway Man stars Nicole Kidman and Oscar winner Colin Firth, who portrays Edinburgh-born Army officer Eric Lomax.
Mr Lomax was captured following the surrender of Singapore and was among prisoners of war forced to build the Burma Railway. He was also tortured.
Scenes in the trailer include a shot of the Glenfinnan railway viaduct.
The viaduct has previously featured in the Harry Potter films.
Filming for The Railway Man was also done in Edinburgh and North Berwick.
Premiered at this month's Toronto Film Festival, the film sees Firth's haunted Lomax return to the Far East after the war to confront one of his interrogators, Takashi Nagase.
The prison camp interpreter is played by Hiroyuki Sanada, who was in the movie Wolverine and the US TV series Lost.
Moulin Rouge and Stoker actress Kidman plays Mr Lomax's wife Patti, who helped her husband cope with his mental scars.
Firth, winner of the best actor Oscar in 2011 for his portrayal of King George VI in The King's Speech, met Eric and Patti Lomax twice. He said the meetings helped prepare him for the role.
Mr Lomax died in October last year. He was 93.
The Railway Man will be released in UK cinemas in January next year.