World War II mini sub raid to be recalled in Assynt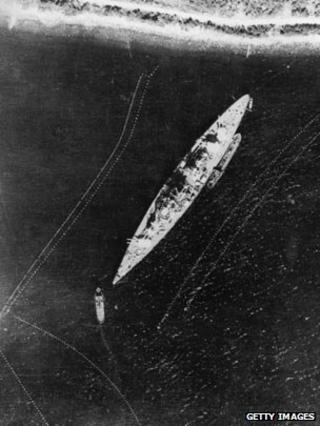 The anniversary of a World War II raid by Royal Navy midget submarines against a German battleship is to be marked at a loch in Assynt in Sutherland.
Six X-craft were towed from Loch Cairnbawn to the Norwegian coast for the attack on the Tirpitz and two other warships on 22 September 1943.
The Tirpitz was badly damaged. Bombers from Lossiemouth finally put it out of action in November 1944.
The sub raid will be recalled in a community event on 22 September.
Assynt and Scourie community councils are helping to organise the event at a memorial to the X-craft crews near Kylesku Bridge.
Launched in 1941, 10 attempts were made by Britain and Russia to sink Tirpitz. It earned a reputation for being unsinkable and was nicknamed the Beast.
The battleship was a threat to convoys of ships that left Scotland and other locations to deliver supplies and weapons to Russia.
Sailors volunteered for the midget submarine raid.
The crews trained in Loch Cairnbawn before the boats were towed by conventional submarines to Norway.
Two of the X-craft were lost en route.
The crews of the remaining boats had to deal with entanglements with anti-torpedo nets and also came under fire during the raid.
Explosive charges laid by the X-craft crippled Tirpitz, leaving it vulnerable to further attacks.
On 12 November 1944, Lancasters flying out of Lossiemouth on Scotland's Moray coast bombed the battleship.
About 10 minutes after the first bombs hit, the vessel turned on its side.