Inverness man on probation for child images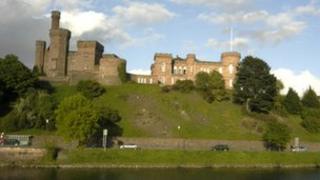 An Inverness man has been sentenced to three years probation after 15,220 images and 790 videos of child pornography were found on his computer.
Alan MacLeod, 46, was also banned from drinking alcohol for the duration of his sentence and ordered to carry out 200 hours of unpaid community work.
Inverness Sheriff Court heard that he would download the photographs and videos when drunk.
When sober, he would be guilt ridden and delete the material.
The court heard that some of the indecent videos involved very young children.
The videos were so graphic they distressed the analyst whose job it was to recover them from the computer hardware, the court was told.
At a hearing in April, MacLeod admitted possessing the images and videos between July 2008 and August 2009.
A total of 2,695 photographs and 604 videos were at the top two levels of depravity.
Holes drilled
Police caught MacLeod after receiving intelligence which disclosed the internet protocol address of his computer.
It was traced to his home and police searched the address in August 2009.
He immediately confessed to police that he had indecent images of children and a computer hard drive with holes drilled through it was recovered.
The court was told that he tried to corrupt the data but computer experts were still able to retrieve the images.
A total of 12,789 were found on it and 461 videos.
More material had been copied on to a computer tower which was recovered.
It had 1,807 images and 329 videos. Back-up discs had also been made and they stored another 624 images and videos.
MacLeod was also placed on the sex offender's register for three years.