Highland Council proposes targeted overnight parking ban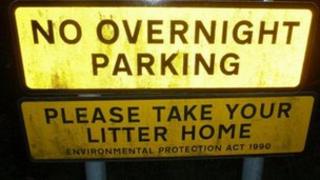 Overnight parking could be restricted where communities say it has become a problem, Highland Council has said.
The local authority removed "no overnight parking" signs from its lay-bys last year following a campaign by an adventure traveller.
It is to carry out a review of what impact that has had, and said it could lead to restrictions at some sites.
However, the council said it has no intention of introducing a blanket ban on overnight parking.
Andy Strangeway, from East Yorkshire but a regular visitor to the Highlands and Islands, started lobbying for the signs to be removed from Scotland's lay-bys in 2011.
Highland councillors voted on the removal of the local authority's signs last September.
Transport Scotland had already committed to removing 50 notices from trunk roads.
The signs were thought to date from the 1990s.
They were put up to to discourage overnight parking of caravans and motor caravans in rural lay-bys where there were no facilities for the disposal of waste.
The signs had also been intended to support the local economy by encouraging tourists to make use of the commercially operated caravan sites in the region.
Highland Council said last year the signs were "advisory" and it had never made any efforts to enforce the message they carried.
Graham Phillips, chairman of Highland Council's transport, environmental and community services committee, said a fresh ban on the parking was not being planned.
He said: "The Highlands thrive and depend upon tourism and we welcome hundreds of motor caravans and caravans every year, recognising the valuable contribution they make to our economy.
"I have spoken with representatives of the motor home, camping and caravan organisations to reassure them of our welcome."
Mr Phillips added: "Any restrictions we propose will be limited to those few instances where the impact of overnight parking has a significant impact on the local community.
"This will be confined to village and town centres, and potentially certain 'destination lay-bys' in the open countryside which serve as car parks for all types of visitors."