Numbers game: Facts and figures on Inverness West Link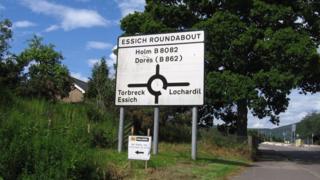 The final lay out drawings for the Inverness West Link have been approved. Here BBC Scotland looks at the numbers involved in the project.
The proposed new road will be a new link from the city's Southern Distributor Road at Dores Road to the A82 trunk road at Torvean via crossings of the River Ness and the Caledonian Canal.
At a meeting of Highland Council, councillors approved the lay out of the West Link and also that officials should submit a planning application for the road.
The scheme is wrapped up in various costs, dates and other numbers.
One Inverness Caledonian Thistle's position in the Scottish Premier League. Council leader Drew Hendry has had talks with the city's football club about its players using a new sports hub, a project associated with the building of the road.
Two The West Link is to be built in two phases. The first involves laying a new road from Dores Road roundabout to Glenurquhart Road and the bridging of the River Ness. Phase two will see the installation of a new crossing on the Caledonian Canal.
Two and a half Part of the route has a bizarre claim to fame. Charlie Sheen, former star of US series Two and a Half Men, had his photograph taken with the wooden Nessie statue on the Dores Road roundabout in July. The actor was making on a flying visit to the Highlands.
£3.5m-£4.5m The element of planning gain that Highland Council says will contribute towards the cost of the roads project.
£6m-£9.5m Estimated cost of creating the new sports hub at Torvean. The site's four pitches are to make up for the loss of green space.
Six The West Link was number six of the options for the lay out of the road that were considered by councillors.
Eight Number of options considered.
16 The preferred route was approved unanimously by a 16 member cross-party working group, also Inverness City Committee and the full council.
100 More than 100 people turned out at a demonstration in Inverness's Whin Park to oppose Option Six.
2012 The year when an offer from Tesco to provide £340,000 towards the West Link ran out. The offer, contained in an email acquired by BBC Scotland through a freedom of information request, was made in 2002 and formed part of developer contributions tied into the building of the chain's new store on Dores Road.
2015 The year when the first construction work is expected to start on the road.
£27.2m Original estimated cost of building it.
£34.4m The new revised figure of the cost. Highland Council said the increase was the result of inflation since the project was first priced in early 2011, and the enhancement of the design to include additional features for cyclists and walkers following consultation with the public.