Filming in Scotland 'brutal', says Scarlett Johansson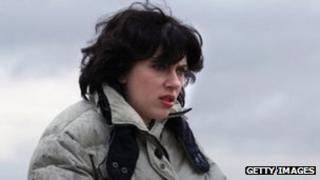 Actress Scarlett Johansson has described shooting scenes in Scotland as "brutal, cold and wet".
Some of the filming for the science fiction movie Under the Skin was done in Glencoe in November 2011.
Based on a novel of the same name by Highlands-based author Michel Faber, scenes were also shot in Glasgow.
The feature directed by London-born director Jonathan Glazer has been given its world premiere at the Venice Film Festival.
Promoting the film in Venice, Johansson told a news conference: "It was as if you had just picked us up and dropped us into the middle of absolutely nowhere.
"It was harsh and it was brutal and it was cold, it was wet and it was terrifying but we pulled through."
The filming in Glencoe involved closing a short section of the A82 for 10 minute periods.
Johansson plays an alien who prowls the highway, preying on humans.
The film is loosely based on Faber's story. The novelist used the A9 in his book.