The Appin murder: Scotland's 261-year search for a killer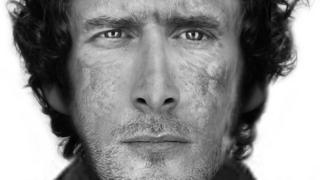 Historians and forensic scientists have re-examined the Appin murder of 1752 using modern techniques.
James Stewart was hanged after being convicted of shooting and killing Colin Campbell in an Argyll wood.
However, others have been suspected of being the killer, including Stewart's son Donald and foster son Ailean Breac.
Prof Caroline Wilkinson, of Dundee University, created artwork of Ailean Breac's face as part of the cold case review.
The scarring on his face is thought to have been caused by smallpox. The Gaelic word breac means scarred or speckled.
Campbell, the manager of three west Highland estates in government control, was shot as he travelled by horse to evict tenants, the Stewarts of Appin, and replace them with his own relatives.
The murder outraged the British establishment and came in the aftermath of the Battle of Culloden in 1746.
At Culloden, Bonnie Prince Charlie's Jacobite force was defeated by a government army.
Stewarts suspected of being involved in a conspiracy to murder Campbell were veterans of the battle. Ailean Breac had later gone to serve with the British and French armies.
Miles away
Stewart, known as Seumas a' Ghlinne in Gaelic, was tried for the murder in a court held in Inveraray in September 1752.
Eleven of the 15 jurors were Campbells, a clan which had fought against the Jacobites at Culloden.
The senior of the three judges at the trial was the Duke of Argyll, chief of Clan Campbell.
During his trial, Stewart presented an alibi that he had been several miles away on the day of the murder.
No evidence was presented that he had been involved in a conspiracy to murder.
The main witness saw a man with a gun some distance away but was unable to identify who he was.
The Appin murder inspired Robert Louis Stevenson to write Kidnapped.
Modern forensic techniques have been used in an effort to reveal evidence in the case.
As well as a reconstruction of Ailean Breac's face there has been a detailed examination of how the murder weapon would have fired.
The experts include forensic scientist Prof David Barclay, retired judge Lord Kenneth Cameron of Lochbroom and historian Prof James Hunter.
Prof Hunter, who as a boy played in the ruins of Seumas a' Ghlinne's house in Duror, wrote a book about the case.
In setting out the murder's historical context for the review, Prof Hunter said Ailean Breac and Donald were suspected of the shooting.
The historian said: "To be part of this review has been one of the most enjoyable things that I have done in a long time.
"To see work of the forensic experts and scientists, and the seriousness and amount of effort they have put in, has been fascinating."
The team has been presenting its findings during a two-day event in Fort William. It concludes later on Thursday.