Scotland women's World Cup games live on BBC Alba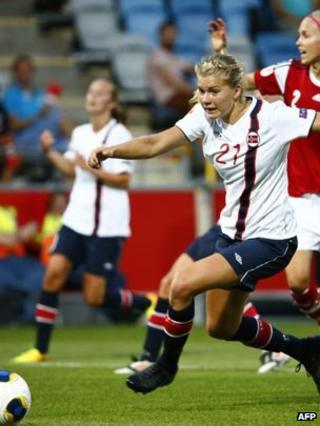 Scotland women's World Cup qualifying games against Bosnia-Herzegovina and Northern Ireland are to be shown live on BBC Alba.
The Gaelic TV channel will also show a documentary about pioneers of the women's game in Scotland.
England women's World Cup qualifiers are to be shown on BBC Two and BBC Two HD.
The live matches follow BBC Three's live TV coverage of the 2013 Women's European Football Championship.
Scotland play Bosnia on 26 September and Northern Ireland on 26 October.
BBC Alba has also commissioned the documentary Honeyballers.
It tells the story of Scottish women's football pioneers, who often had to battle against discrimination and negativity to gain recognition for the sport.
The documentary, written by Margot McCuaig and narrated by sports broadcaster Alex O'Henley, will air after the first live game in September.
Shelley Alexander, editorial lead for women's sport at the BBC, has welcomed the Gaelic channel's scheduled coverage.
She said: "It's great that BBC Alba is offering comprehensive coverage of Scotland's World Cup qualifier matches.
"The programming greatly complements both the women's football output on BBC Sport, and the coverage of many other women's sports.
Ms Alexander added: "This summer's women's Euro's coverage proved very popular with audiences and we are keen to build on this appetite across the UK as the teams start their World Cup campaign."