Inbetweeners producer working on new Gaelic TV drama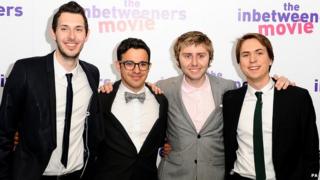 The producer of E4's award-winning comedy The Inbetweeners is involved in making BBC Alba's first Gaelic drama.
Chris Young is working on a pilot for Bannan, The Ties That Bind in English, with screenwriter Chrisella Ross and actor-director Tony Kearney.
It will follow the story of Mairi Macdonald's return to the island she left when she was 18 to escape from her family and the location.
Drama has been indentified as being something that BBC Alba has lacked.
One of the Gaelic TV channel's bosses said in July that the global success of Danish dramas, The Killing and Borgen, may inspire potential makers of Gaelic-language dramas.
Skye-based Young produced The Inbetweeners and a spin-off film.
The television series followed four friends at an English comprehensive school. Starring Simon Bird, Joe Thomas, James Buckley and Blake Harrison, it contains adult humour.
In the 2011 film, the teenagers have left school and head off on their first lads' holiday. There are now plans to make a second movie.
Young's film company also produced Gregory's 2 Girls and Gaelic film Seachd.
BBC Alba and Creative Scotland are collaborating on Bannan. The project was unveiled during the launch of the channel's new autumn schedule.
Margaret Mary Murray, BBC Alba's head of service, said: "This new drama series, which will screen in 2014, is a fantastic step forward for BBC Alba, helping us in our ambition to establish drama within our schedule, and it is something which has been much anticipated by our viewers.
"We are delighted to be working in partnership with Creative Scotland on this project and are privileged to have acclaimed producer Chris Young overseeing the production.
"The drama offers a platform to enhance existing and emerging talent and provides opportunities for employment and training across a wide range of disciplines in the creative sector in Scotland."
Janet Archer, chief executive of Creative Scotland, added: "This is an exciting time for people who are passionate about Gaelic drama.
"There are increasing opportunities for established and emerging actors, directors, writers, and producers to create new work, and a growing momentum for audiences in Scotland, the UK and internationally to have chances to see Gaelic drama."
During the autumn, BBC Alba will show live international matches from Scotland's 2015 Women's FIFA World Cup qualifiers.
Bosnia and Northern Ireland are among the countries the national team must compete against to reach the finals in Canada.
The channel has also commissioned a documentary called Honeyballers which will tell the story of Scottish women's football pioneers.
It will air after the first live home Scotland World Cup qualifier on 26 September.
Shelley Alexander, editorial lead for women's sport at the BBC, said: "It's great that BBC Alba is offering comprehensive coverage of Scotland's World Cup qualifier matches.
"The programming greatly complements both the women's football output on BBC Sport, and the coverage of many other women's sports.
She added: "This summer's Women's Euro's coverage proved very popular with audiences and we are keen to build on this appetite across the UK as the teams start their World Cup campaign."