Project aims to unlock historic Scottish archives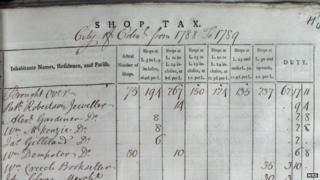 Thousands of volunteers are being sought to transcribe more than 150,000 pages of historic archives.
Described as the largest crowd-sourcing project of its kind in Scotland, it involves papers and records dating from 1645 to 1880.
People are being invited to read old handwriting and indentify places and people in texts written in Scots, Gaelic and English.
The project has been called Transcribe ScotlandsPlaces.
The information uncovered by volunteers will be added to the ScotlandsPlaces website.
The site brings together records held by the Royal Commission on the Ancient and Historical Monuments of Scotland, the National Records of Scotland and the National Library of Scotland.
Organisers of the transcribing project hope the information gleaned will help to increase knowledge and understanding about Scotland's history.
They also hope local and family historians, historical geographers, history societies and researchers will use the resources for their research.
'Famous figures'
Culture Secretary Fiona Hyslop said it was an exciting project.
She added: "It will celebrate our long history in archiving and ensure these precious records become more accessible for everyone.
"I would urge as many people as possible to volunteer for this unique project and contribute to unlocking the secrets of Scotland's past and improve our understanding of our history."
Project spokesman Andrew Nicoll said: "Through this huge crowd-sourcing archive project, we hope that many thousands of volunteers will make new discoveries about people and places in Scotland's history over the past 350 years.
"These records touch the lives of everyone from the famous figures of Scotland's past, to the ordinary man and woman in the street.
"The potential of what we may find is incredibly exciting. And anyone, anywhere in the world, with access to the internet can get involved."