Inverness West Link: Cost of road could increase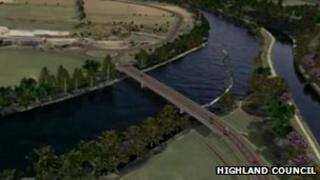 Costs associated with the Inverness West Link could run to £43.5m, according to figures contained in a new report to Highland councillors.
Alterations to the proposed new road's layout combined with inflation could add an extra £7m to the £27m price of building the route.
New sports facilities to be created as part of the project could cost up to £9.5m.
A meeting of the full council next week will consider the report.
Councillors will be asked to approve the layout of the road and sanction the start of the process to acquire the land needed for it.
Highland Council says the new road is needed to ease travel across the city.
Changes have been made to the project's designs following public consultation.
The planned new sports hub will be bigger and four sports pitches will be created at a different location than originally planned.
There is to be a new golf practice area and land made available for the expansion of Kilvean Cemetery.
The changes also include dropping a plan to make an area of land available for mixed-use development.
Earlier this month, the local authority said the new proposals should not affect the planned 2015 start date for the construction of the West Link.