Highland police officers Ovenstone and Kelman sentenced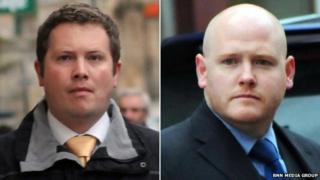 Two police officers who admitted behaving in a threatening manner towards two teenage girls have been sentenced.
A court had heard that the girls were handcuffed and driven to a farmyard by Robert Ovenstone and Stuart Kelman.
Ovenstone, 32, also admitted forcing the girls to walk through manure without shoes on.
He has been ordered to carry out 240 hours community service and Kelman, 31, fined £1,500.
Ovenstone has resigned from Police Scotland while Kelman remains suspended by the force.
The men were sentenced at Tain Sheriff Court, where Ovenstone had also earlier pleaded guilty to behaving in a threatening manner towards a young boy.
A charge of abducting the girls was dropped by the Crown.
'Golden age'
The girls had been detained after a disturbance at a residential care home in Easter Ross in July 2011, the court heard.
The court was told that Ovenstone took the teenagers to the farm to cool off, claiming he was deploying "old fashioned policing".
Sheriff Jamie Gilchrist QC criticised Ovenstone's behaviour.
He said: "You described your actions as old fashioned policing, harking back to some apparent golden age of policing - if it ever existed - where it is claimed matters were dealt with by a clip round the ear.
"It is worrying and astonishing that a police officer could be so lacking in judgement.
"Police often have to deal with difficult and hostile people sometimes because they are under the influence of drink or drugs.
"But police have to treat everyone justly and fairly instead of approaching a challenge by using terror as a means of control."
'Sucked in'
Sheriff Gilchrist said Ovenstone had abused his position and described his actions as a "catastrophic error of judgement" rather than malicious.
Sentencing Ovenstone, the sheriff added: "There is little to gain by sending you to prison."
The court heard that Kelman told Ovenstone "that's enough" when the girls were told to walk down the manure-scattered farm track in darkness and in their stocking soles.
Sheriff Gilchrist told Kelman: "I consider your role in the offence as one of failing to act. A matter of omission rather than commission.
"That in itself is serious but you could not have expected a more senior colleague to have acted in the way he did.
"You were sucked in to the situation and you did intervene. You also took action by reporting it and that took character and courage."