Plastic glasses proposal for Highland pubs and clubs dropped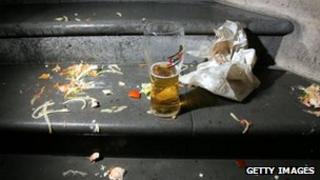 A proposal to extend the use of plastic drinks glasses to all pubs in the Highlands has been dropped.
Late-opening clubs must serve all beverages in plastic containers after 21:00.
Highland Licensing Board considered whether the rule should be widened to all premises, but voted against it.
Under an alternative policy, drinks will have to be served in plastic glasses only in places where the board considers it will improve safety.
The nightclub rule was introduced in the first place because of police concerns about the potential for glasses and bottles to be used in assaults.
Highland Licensing Board had consulted on the proposal to extend the use of plastic.
Two Inverness pub and bar owners had opposed the move, saying it would send out the wrong signals about public safety in the Highlands.
Board members voted on the plan at a special meeting on Tuesday.
It was rejected in favour of a new policy that will be introduced in November.
Premises already subject to the plastic glasses requirement as a condition of their licence will be able to ask for that to be removed.
The new policy will also allow pubs and clubs to sell alcohol earlier and for longer on Sundays.
Generally, hours of sales are restricted from 12:00 until midnight on Sundays, but this will be changed to 11:00 until 01:00.
The board's chairwoman Maxine Smith said: "I'd like to thank all the individuals, community groups, licensees, forums and public agencies for taking part in the consultation.
"I think we took on board the majority of suggestions and I look forward to the new licensing policy statement being fully adopted at our next meeting."