Approval for An Camas Mor development near Aviemore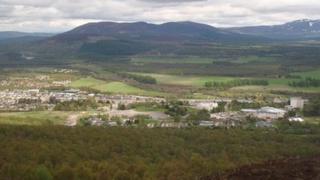 Controversial plans to build 1,500 new homes in the Cairngorms National Park have been given planning permission in principle.
An environmental group failed in legal challenges designed to halt the An Camas Mor project near Aviemore.
The Cairngorms Campaign said the development was a threat to wildlife habitats.
The Cairngorms National Park Authority planning committee granted permission in principle at a meeting in Aviemore.
Convener Eleanor Mackintosh said there was a need for new housing in the park and An Camas Mor would help to meet that requirement.
She said: "This is the largest and most complex application to come before us.
"Today's decision is one stage in the process and our planning team will continue to work with the applicants and other interested parties on preparation of a masterplan for the new community."
Urgent disposal
Last month, the Cairngorms Campaign failed in a legal challenge against four major housing developments proposed for the park.
The group opposes plans for 1,500 homes at An Camas Mor and 117 at Carrbridge, 300 at Kingussie and 40 at Nethy Bridge.
It appealed to the Court of Session over the park authority's local plan, which includes the developments.
The campaign had appealed against a legal judgement that rejected a previous court challenge to the local plan.
It claimed the four developments were a threat to wildlife and a proper environmental and ecological assessment of the impact of the local plan had not been carried out.
But Lady Paton, sitting with Lady Smith and Lord Bracadale, rejected the appeal and said they were not persuaded that a reference to the European Court of Justice was necessary in the action.
The senior judge said the park authority's appropriate assessment could not be said to be one which no reasonable authority would have produced in the circumstances.
The authority had instructed its lawyers to seek an urgent disposal of the appeal to avoid further delays to the implementation of the local plan.