Fears for St Kilda's puffin colony - the UK's largest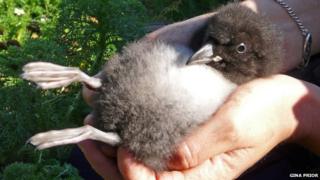 Worries have been raised about the future of the UK's largest puffin colony.
The National Trust for Scotland said the seabirds on St Kilda had a moderately successful breeding season this year.
The remote island group 41 miles (66 km) west of Benbecula in the Western Isles has about 136,000 puffins.
NTS fears fewer chicks, called pufflings, could bring about a decline in the colony's number of birds.
The trust's seabird ranger Gina Prior, who is based on St Kilda, said: "Our monitoring has found that the breeding success for puffins was at a similar level to last year with about 45% of breeding pairs raising chicks.
"We'd be looking for around 70% of nests to produce a chick ideally.
"If the current levels continue for the long term, then the population of the colony could start to decline as the number of chicks just won't replace the adults who are dying off."
NTS has been monitoring the breeding season of other species.
For the first time, a pair of swallows have raised three chicks on St Kilda's main island of Hirta.
The nest was established in a garage used by defence contractor, Qinetiq, who agreed to leave the doors open for the duration of the breeding season.
Swallows are regular summer visitors to St Kilda, but this is the first year that they have been recorded successfully raised young.
Qinetiq operates a radar station on St Kilda.
Leach's storm petrels, a rare seabird that have been in decline on the islands since the late 1990s, have raised chicks for the first time in nest boxes made by Inverness College students.