West Lochaber GPs' posts to be re-advertised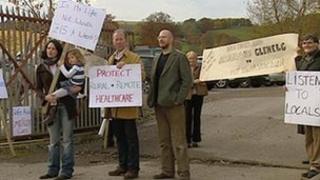 The first round of adverts aimed at finding GPs to operate in West Lochaber has been unsuccessful.
NHS Highland said it would now re-advertise for doctors to provide cover in the sparsely populated area of the west Highlands.
The new deadline for applicants will be mid-September. The vacant posts are being covered mainly by locums.
The health board hopes to put together a team of GPs working out of Mallaig and Acharacle.
Local residents have been campaigning for several years for better medical cover in the area.
A spokeswoman for NHS Highland said: "Although there was a good level of interest in the first round of advertising, with a large number of enquiries, only a small number of applications were received.
"Whilst we were pleased with the level of interest our aim on this occasion is to increase the number of applications received.
"At the moment NHS Highland continue to provide locum GPs to cover the practices, they provide the normal GP practice services. We are using a small number of regular locums so that they get to know the area and provide improved continuity of care for patients."