Poles apart: Girl's journey from war-torn Warsaw to Skye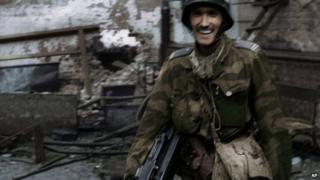 Footage from the 1944 Warsaw Uprising has been re-mastered for use in a new film. The rising by Poles against occupying Nazi troops involved a young resistance fighter who, after the war, landed on Skye, the home of her distant Scottish ancestors.
Last month, extraordinary images of members of the Polish Home Army on the bomb-blasted streets of Warsaw were made public.
Shot at the time in black and white, colour has been added to the frames by cinematographers at the request of the Warsaw Rising Museum.
The re-mastered footage will appear in Warsaw Rising, a new film which will be released next year to mark the 70th anniversary of the ill-fated rebellion.
Fought over 63 days between Poles and soldiers of Nazi Germany, the conflict killed more than 200,000 people.
Among the resistance fighters, and survivors, was 17 year old Wanda Machlejd.
She and other young people served as runners delivering messages between elements of the home army.
The runners dodged enemy fire by crawling through the city's filthy, rat-infested sewers.
When the resistance collapsed, Wanda was sent to a prison camp on the German-Dutch border. But she would later find herself in the grand setting of a historic castle on the Isle of Skye.
"Wanda and her family's story is tragic and remarkable," said Highlands-based writer and historian Dr James Hunter.
"Tragic because of the horrors Wanda endured and also what happened to her father and uncle, and extraordinary because of the Machlejds' awareness of their Scottish ancestry."
Dr Hunter researched the family's story for his book Scottish Exodus: Travels Among A Worldwide Clan.
He said: "I did not know anything about it until I came across it in the Clan Macleod archives."
The records revealed how in 1937 Wanda's uncle Jerzy Machlejd travelled from Warsaw to Dunvegan Castle on Skye to trace his family tree.
Jerzy was fascinated by an ancestor, a Macleod who left his clan's home island of Skye in the 17th Century to fight in the Thirty Years War.
Lasting from 1618 to 1648, the conflict saw thousands of Scots serve in Scandinavian armies against forces loyal to the Holy Roman Emperor.
Jerzy's warrior ancestor later settled in Poland and raised a family.
When war returned to Europe, Jerzy and his brother Jozef - Wanda's father - were killed in 1940's Katyn Massacre.
The men were among 22,000 Polish officers and officials killed in the mass execution by Soviet NKVD secret police on the orders of Joseph Stalin.
Within four years, Wanda was fighting for her life on the streets of Warsaw and then a German prisoner-of-war camp.
'Sheer heroism'
In what Dr Hunter calls another series of extraordinary events, the young woman's camp was liberated by a Polish armoured division of the British Army that was raised in Scotland in 1942.
"Secretly, the Polish women in the camp had made a Polish flag and the soldiers liberating them were astonished to see it being waved at them as they arrived," said the historian.
Wanda was moved to a camp for displaced persons where she was tracked down by another member of the far flung Clan Macleod.
Australian Stuart Macleod had previously read about Jerzy's visit to Skye in the clan magazine.
An intelligence officer during the war, Stuart had access to information and contacts that helped him to find Wanda among Europe's millions of refugees.
Dr Hunter said: "Wanda was brought to Skye to convalesce at Dunvegan Castle under the care of Dame Flora Macleod."
Wanda later returned to Poland.
"Sadly she died a few years before I started my research for the book," said Dr Hunter.
"The sheer heroism of her actions as a young girl, and her uncle's awareness of their family's Scottish origins, is extraordinary."