Royal Dornoch's historic Carnegie Shield hits 100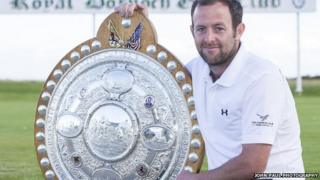 One of golf's oldest amateur open competitions has been held for the 100th time.
The Royal Dornoch Golf Club's Carnegie Shield trophy was donated by philanthropist Andrew Carnegie.
The first contest was held in 1901, but the competition did not take place on 12 years during and after the two world wars.
Local golfer Christopher Mailley won the 100th event, with Trey Wilkinson, from Texas, finishing runner-up.
Players from Germany and Sweden also took part.
Dunfermline-born steel magnate Carnegie made his fortune in the US and spent summer holidays at Skibo Castle, near Dornoch.
His other gifts to the Sutherland town included a library and the lighting system and organ for its historic cathedral.