Living history: People re-creating Scotland's past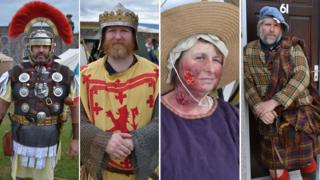 Hundreds of people re-enact periods of Scotland's history in their spare time. Why are they so fascinated by the nation's past that they want to re-create it?
Friends, Romans and infantrymen are gathered within the stout walls of Fort George, an 18th Century artillery fort near Inverness.
It is early August and Historic Scotland is hosting one of its biggest weekends of the year, Celebration of the Centuries.
Thousands of people arrive to see re-enactors and living history groups portray life from the time of the Iron Age through to World War II.
Children get their faces painted by Pictish women while people queuing at an ice cream van watch soldiers of the Napoleonic Wars drill in the fort's parade ground.
A Roman legionnaire, on a break from his duties with The Antonine Guard re-enactment society, takes to an outdoor dance floor with his wife while a 1940s dance band plays the soundtrack to the war-time years.
Meanwhile, in the event's main arena, a group dressed as World War I soldiers open canisters of coloured smoke to help them explain the horrors of a poisonous gas attack.
Other re-enactors include John Lyons, of The Historic Saltire Society and who is portraying King Robert the Bruce. There are also ladies dressed as elegant 16th Century aristocrats and even pirates.
Later, tourists and re-enactors stand shoulder to shoulder at the fort's battlements to watch an aerial display by a Spitfire, the poster plane of World War II's Battle of Britain.
"I think that in today's age, groups like ourselves play a huge part in widening understanding of Scotland's varied and diverse history," says Kevin Grant, of The Antonine Guard.
"The internet has made information readily available at the click of a mouse, however, groups like ours and those of the differing time periods bring an immediate strong visual presentation and a lasting one.
"We feel we play a strong part in making history accessible and fun."
He adds: "On a personal level it also allows us to actually feel in a small way what it would have been like, in terms of wearing and drilling in the armour and just how strong and physically fit these men were.
"At some point in their life who doesn't want to be a Roman, or a Viking, or a knight?"
Kevin finds that, in general, people are surprised by how much the Romans and their empire are wrapped up in Scotland's past.
The Romans posted auxiliary soldiers from France, Belgium, Spain and Germany on the Antonine Wall, which runs from Old Kilpatrick on the north side of the River Clyde to Bo'ness on the Firth of Forth.
A unit of Syrian archers was based near Croy in North Lanarkshire.
"Some of the best military remains for camps and fortification are in Scotland and many important archaeological finds have been discovered here," says Kevin.
'Risk assessment'
Husband and wife team Alan and Maureen Neilson got involved in living history 18 years ago.
They are interested in 13th and 14th centuries, but also later periods such as the 18th Century.
At Fort George, Maureen is made up to look like a medieval plague victim while Alan dons the sinister, bird-like mask of a plague doctor.
Alan says living history and re-enactment has evolved over the years.
"The early days we indeed had good fun but basically all the groups were much the same, a bunch of blokes out for a bit of a sword fight, a good old drink and all the better if you could find an employer who would pay," he says.
Today, groups such as The Historic Saltire Society, which the Neilsons with others helped to set up, write detailed business plans, bid for Lottery grants and have to have official paperwork that allows them to attend events such as Celebration of the Centuries.
"All the groups now are covered with insurances, have Disclosure Scotland certificates and have to produce a risk assessment sheet before the event," says Alan.
"Whoever the employer - Historic Scotland, National Trust, clan gatherings, private companies, charities, schools or museums - all insist on this type of professionalism."
Fort George is not the only place to find a gathering of re-enactors.
They pop up regularly at places such as Urquhart Castle on the shores of Loch Ness and Culloden Battlefield.
'Adrenaline sports'
Inverness-based Ian Deveney, meanwhile, is among history buffs to have turned his interest into an almost full-time job.
With his business, Battlescar, he tours Scotland re-enacting various periods such the Vikings, the Scottish Wars of Independence and Jacobites.
"I've been doing re-enactments for 23 years," says Ian.
"I was into adrenaline sports like white-water rafting and kayaking and then myself and one of my mates were asked if we would like to do some re-enacting. We dressed as Jacobites, got this great buzz from doing the re-enacting and the rest is history as they say."
Ian has also sought to better understand past times by re-enacting events while wearing authentic period clothing right down to the footwear, while carrying replica weapons and eating the foods that were available in those times.
"You grow up with these ideas of what happened in the past," he says. "Being part of re-enactments has changed how I used to view history."
In 2009, Ian and a group of friends retraced the retreat of Bonnie Prince Charlie's army from their defeat at Culloden, near Inverness, to Ruthven Barracks, south of Aviemore.
Then, only a few days later, he joined archaeologist Dr Tony Pollard for a re-enactment of the Jacobites' Night March of 15 April 1746.
Dr Pollard, of the University of Glasgow, says: "Re-enactors are a strange breed, pretty eccentric but all with a passion for history, which I guess makes them my kind of people."
"They do everything, from recreating medieval rope to fighting huge battles.
"I saw my first re-enactment when I was about nine years old. Had to walk miles to see the Sealed Knot doing their stuff, loved it so much I went back for a second day."
A member of Diehards, a group specialising in the Zulu War of 1879, helped Tony to explain the use of large and small buttons on the tunics of British soldiers at the battle of Isandlwana.
In September this year, Tony sought the help of 20 re-enactors to help explain events of 1513's Battle of Flodden. Elements of the clash between armies of Scots and English was recreated close to the battlefield, but not on it.
"I'm not keen on re-enactments taking place on actual battlefields," says the archaeologist.
"Battlefields are hallowed ground where people fought and died. We should not be 'playing' at war on this hallowed ground.''
If given the opportunity, would re-enactors travel back in time to experience the periods they dedicate so much of their time and energy to portraying? Alan Neilson does not think so.
"Would I like to live in the past, not on your life," he says.
"We are far too soft, our bodies would not be able to cope with the cold winters, no central heating, the growing of food, health and the lack of hygiene, the feudal system - you and I would be near the bottom - wars, crime and on and on.
"Perhaps I would like to drop in on certain events or times but for a short period only, the crowning of Robert the Bruce for example.
"But personally I would not be interested in watching some of the great battles of the past, I think the reality of medieval warfare would be unpalatable."